Radioisotope Center

Categories of technology seeds

Nuclear System Safety

keyword
Faculty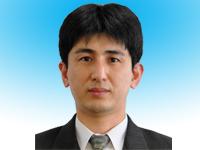 MATSUMOTO Yoshinobu
Nuclear System Safety Engineering
Assistant Professor

TEL:

0258-47-9881

FAX:

0258-47-9880

Main facilities
Ge-semiconductor gamma spectrometer, Liquid Scintillation System, High Frequency Induction Heating System, Inductively Coupled Plasma Mass Spectrometry (ICP-MS) system, Survey meters
Forte of this laboratory's study
I am studying on the water radiolysis of waste at the severe accident of nuclear power plants.
My specialties are to make some oxides and to measure the properties of it.
Areas interesting to interact with
The fields that we want to do together are radiation chemistry and waste management.
Ge-semiconductor gamma spectrometer

High Frequency Induction Heating System