Categories of technology seeds

Information telecommunication

keyword
Faculty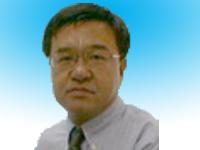 WADA Yasuhiro
Electrical,Electronics and Information Engineering
Professor
TEL:

0258-47-9534

Specialties
Information Science: human Interfaces, Inteligent systems
Research areas
1.Computational Neuroscicence Researches for Human Motor Control
-Examination of Criteria for Human Arm Movements
-Trajectory Planning and Control for complex human arm/hand movements
2.Brain-Machine/Computer Interfaces (BMIs/BCIs) using EEG and fNIRS
-Auditory BCIs using Virtual Sounds (Out-of-Head Sound Localization)
-Reinforcement Learning using EEG signals
-Quantitative Evaluations of brain activity
-Prediction of Human Movement Parameters (force/Trajectory/Direction) using BMI/BCI
3.Communication using movement patters in humans
-Generation and Recognition of Gestures
4.Robot Skill Learning
-Efficient Uses of Virtual Space for Skill/Task Learning
Main facilities
1.3-D motion capture system(OPTOTRAK3020)
2.Data gloves for measurements of hand and finger positions (CyberGlove)
3.Haptic devices (PHANToM DESKTOP, Premium 1.5)
4.Electromyoelectric measuement systems (Nihon Koden, Delsys, OTbio)
5.Robot arom (Mitsubishi PA-10)
6.Electroencephalogram (NeuroScan, NuAmps, BioSemi)
7.functional near-infrared spectroscopy system (Shimadzu, NIRStation)
Areas interesting to interact with
1.Human Interfaces and Brain-Machine Interfaces
2.Pattern Recognition Systems for Human Gestures
3.Rehabilitation techniques and systems for Recovery of Human Motor functions
Message
We aim to contribute for efficient controls of robot arms and developments of a system that can quantitatively evaluate human motor control/learning and rehabilitation process. In addition, we are trying to develop Brain-Machine/Computer Interfaces using non-invasive measurement techniques for brain activity (EEG and fNIRS).
Fig, 1 Simultaneous measurements of human arm trajectory, myoelectrogram, and electroencephalogram.

Fig, 2 Experiment for auditory brain-machine/computer interfaces using virtual sounds (out-of-head sound localization).